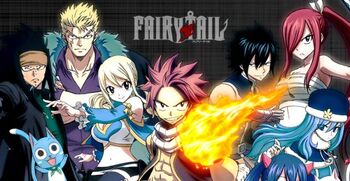 Fairy Tail 
is a Japanese manga/anime series, written and illustrated by Hiro Mashima. The plot focuses on a world populated by wizards, namely the Fairy Tail guild.
Series Dictionary
Edit
Fairy Tail Guild
Edit
Lamia Scale
Edit
Blue Pegasus
Edit
Sabertooth
Edit
Mermaid Heel
Edit
Dark Guilds
Edit
Magic Council
Edit
Legion Corps
Edit
Ad blocker interference detected!
Wikia is a free-to-use site that makes money from advertising. We have a modified experience for viewers using ad blockers

Wikia is not accessible if you've made further modifications. Remove the custom ad blocker rule(s) and the page will load as expected.