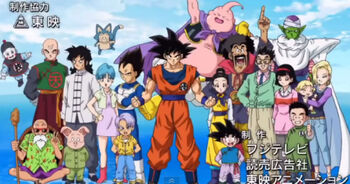 Dragon Ball
is an anime and manga series created by Akira Toriyama. It narrates the adventures of
Goku
and his friends.
Series Dictionary
Character Profiles
Part 1: Dragon Ball
This was the first part of the manga and anime and it starred a twelve-year old Goku who was training with his new Master.
Pilaf Saga
Red Ribbon Saga
22nd Budokai & King Piccolo Saga
Part 2: Dragon Ball Z
Saiyan Saga
Namek Saga
Android Saga
Majin Buu Saga
Part 3: Dragon Ball Super
Battle of Gods Saga
Resurrection 'F' Saga
Universe 6 Saga
Goku Black Saga
Universe Survival Arc
Part 4: Dragon Ball GT
Dragon Ball Z Movies
​Dragon Ball Video Games
Items
Ad blocker interference detected!
Wikia is a free-to-use site that makes money from advertising. We have a modified experience for viewers using ad blockers

Wikia is not accessible if you've made further modifications. Remove the custom ad blocker rule(s) and the page will load as expected.