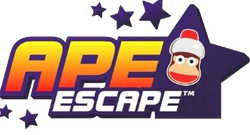 Ape Escape
 is a series published by Sony, originally designed as a direct competitor to Nintendo's Super Mario series SEGA's Sonic the Hedgehog. The series debuted in 1999 on Sony's console, the Sony PlayStation 1.
Profiles
Edit
Villains
Edit
Jake (when brainwashed by Specter.)
The Freaky Monkey Five (Blue, Pink, Red, White, Yellow)
Ad blocker interference detected!
Wikia is a free-to-use site that makes money from advertising. We have a modified experience for viewers using ad blockers

Wikia is not accessible if you've made further modifications. Remove the custom ad blocker rule(s) and the page will load as expected.